'Comunió de la vida'
A site-specific work that reacts to the space and surface texture of the internal structure of the fruit of the fig, with the work relating to its environment.
The wall has a drainage pipe which is surrounded by water embodied in the drawing with a mould of the hands of the artist, which contains a sedum plant for regrowth.
The work comments on the cycles of nature as seen in the local environment of the village, the generations of people, the movement and the life source of the river, the beauty but simultaneous tragedy of life and death.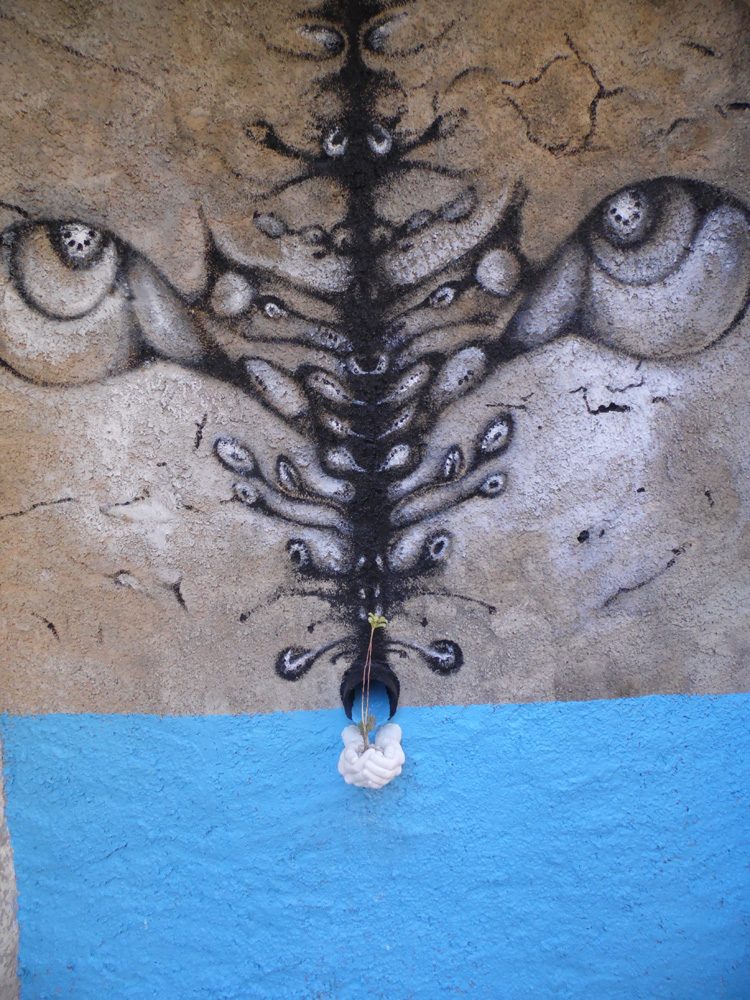 Misselbrook, born in the UK 1977, obtained a degree in Fine Arts at the University of Nottingham Trent, which saw the beginning of her multi-media practice addressing issues related to the body as a canvas and consumer response to society's expectations . Misselbrook completed a qualification focusing on disordered psychology, and gained her PGCE 2004 from the University of Southampton. Misselbrook's master's program included a sculptural installation and recorded performances that aired educational events., religious and submissive quests for perfection.
This structured behavioural performance is providing the artist a new dimension, opening her practice and up to interrupting controlled processes and exhibitions. More recently, the artist has completed several public commissions, including work on a large scale wall in the rural area of ​​Catalonia 2012, entitled "Protection", commenting on the use of the Catalan language and the protection of it by women in the home . In 2014 Misselbrook created a large-scale installation job at NLCS Jeju, South Korea, inspired by the volcanic island and traditional calligraphy and the incorporation of community activities, casting and body printing. Today, the artist is working on further site specific installations, public commissions and educational workshops both in the UK and internationally.
Website - sarahmisselbrook.com