'Woman of the Rainbow'
Woman of the Rainbow is both a song I wrote on ecological/spiritual themes / spiritual and symbolic figure represented in a mural. She is a mythic guardian of the land, a figure of renaissance.
The glass front of your chakra exudes the four elements that create the physical world and the heart chakra out into the Rainbow spirit that infuses.
In his throat, chakra (communication) he col·locat una versió modificada de l'estelada catalana. She holds an olive branch in one hand and the geometry of honeycomb in the other, bees, igual que les idees pol·linitzen i cullen la dolça i rica energia de la vida per a emmagatzemar-los per al seu ús en la simetria bella i vasta de les seves construccions.
The hare with Amphora is a symbol in many cultures cheat and creativity out of chaos. I have also included some olive groves and flowers that are native to Catalonia, a deer that has often appeared in my art as a guide to magical places, a fox to bring back wild gecko and because I see them every time I visit the the village.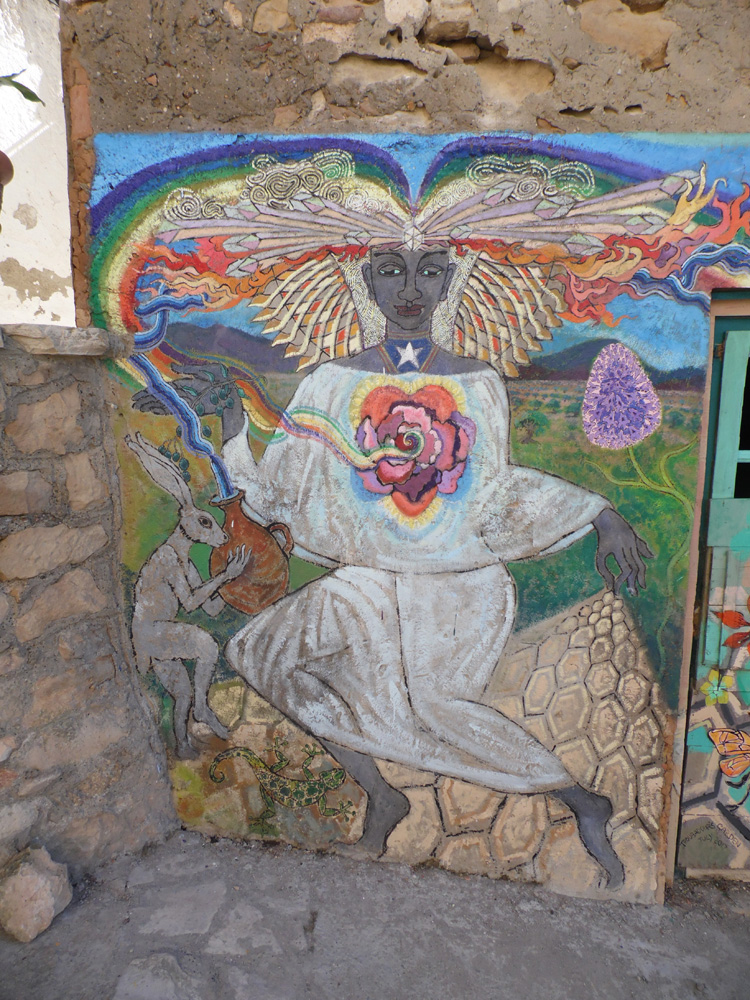 Phil has paintings in national and private collections in Britain and Europe. He has exhibited his paintings at national and international level for over 30 years old. As a painter and musician, he has been awarded funding for initiating numerous arts in education & community in the UK and internationally.
With the composer, his lyrical compositions weave personal mythology landscape with human experience and life stories. His music has a relaxing quality slow, which has its roots in a love of folk ballad tradition, yet Phil's writing and individual arrangements of traditional material have a contemporary edge.
Since 1997 Phil has produced 5 Narratives albums with songs and poems is a professional artist who has been part of many festivals: Glastonbury, Greenbelt, Off Grid Buddhafield i Quest, as well as theatres, Art Centres, acoustic music and folk clubs. He's now part of Poetic Garden, musical group whose music and artist Anna Georghiou also part. They recently performed at the festival of music and art echo Shore Rocks in Catalonia and created a mural in Riba-roja d'Ebre, River in editing Art 2017.
Website - www.artmusephilbird.com